GMHL Decade of Excellence: Gerry Hogenhout
February 23rd, 2022 at 11:04AM
February 24th, 2022 4:50AM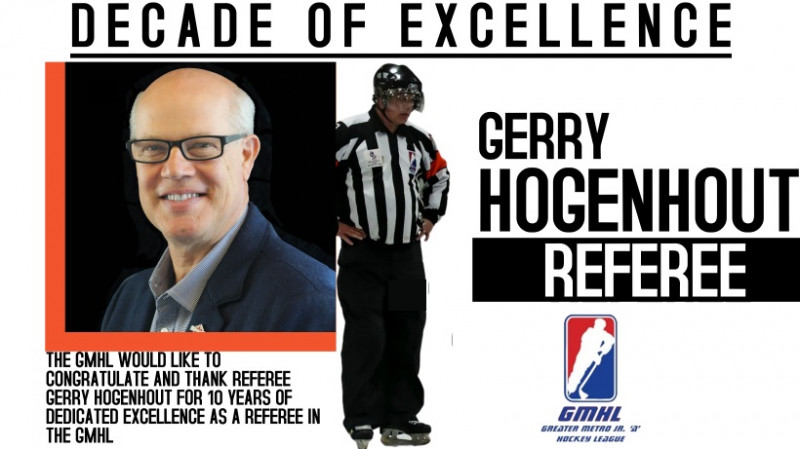 ---
The GMHL, like all leagues, is built upon the foundation of many different people coming together to work as one in an effort to see the league be at its best. This is true for owners, management, the coaching staff, the volunteers, the players and the referees. The GMHL would like to take this time to honor and recognize a member of that final group, GMHL veteran referee Gerry Hogenhout.
Now in his 10th year as a GMHL referee, Gerry has never regretted his decision to join the league: "the GMHL is a league where you continue to see that type of exciting hockey and, as we all know, hockey is first and foremost an entertainment business where people not only enjoy watching a good level of skilled hockey, but they also enjoy some good physical contact."
The GMHL has lived up to all the expectations that Gerry had when he joined the officiating staff 10 years again. "Playing hockey on the edge is a very fine line and I really enjoy refereeing the players that play on that edge and I feel privileged to be in a position to manage that intensity on the ice".
Gerry enjoys the dedication to mental preparation with physical exertion that officiating brings as well: "I spent 10 years on tour as the drummer for the KISS tribute band Fried Alive and the preparation for those 2-hour shows was a great way for me to combine the mental and physical demands that I wanted and needed". He gets the same from refereeing GMHL hockey given the need to go to the rink and be mentally prepared for an intense hockey game while also being physically ready and able to skate at a Junior A level.
Away from the rink, Hogenhout is a licensed Chartered Professional Accountant and operates a real estate investment company called Canadian Investment Services.
"I really cannot say enough good things about the GMHL. The league asks a lot from us as officials but in return, they give us so much more. Regarding the hockey we officiate, the camaraderie we experience with not only our fellow officials, but the incredible people involved with the GMHL itself. I have created many lifelong friendships in this league while refereeing many top-level hockey games."
We would like to thank you Gerry, for your continued dedication to the success of the league both on the ice and off the ice. We hope all will follow the example you set!