GMHL Player Power Rankings - February 2023
February 8th, 2023 at 2:55AM
February 8th, 2023 9:00AM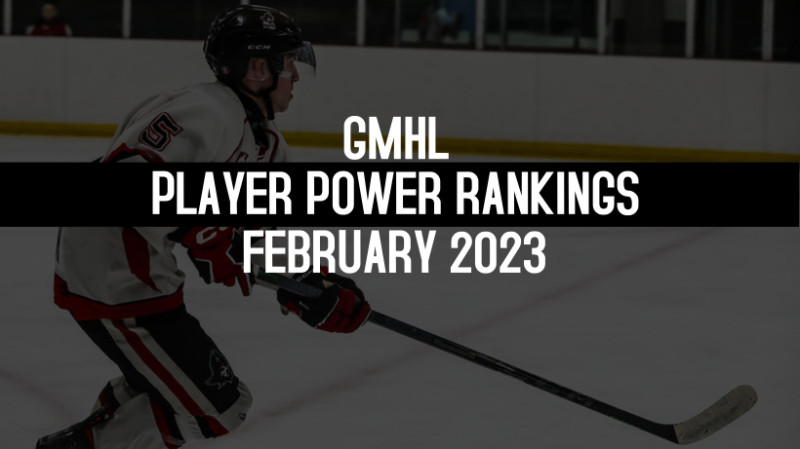 ---
The Greater Metro Junior 'A' Hockey League has released its fifth and final player power rankings of the season for February of 2022-2023 before we head into our playoffs.
Players, parents and fans will be able to see the ranking list that will consist of the top 5 GMHL prospect goalies and the top 20 GMHL prospect players from the North, South and West divisions
For February we have a new #1 in the North Division as Elite Two Way Rattlers Forwad Jesper Eriksson finds himself at the top of the rankings. These rankings are following the GMHL All Star game where many players were watched with the opportunity to play against their peers from every division. This ranking is also following the roster movement deadline and so players who were signed or acquired at or near the deadline may be making their debuts.
The Rankings are as follows:
Player Power Rankings.
North Division
Goalies
1 Oliver Balazs, Bradford Rattlers (Previously #2)
2 Cory Richardson, Knights of Meaford (Previously #4)
3 Emile Beausoleil, Ville-Marie Pirates (Previously Unranked)
4 Eloi Bouchard, Temiscaming Titans (Previously #5)
5 Yaroslav Chebanu, Muskoka Shield (Previously #3)
Players
1 F Jesper Eriksson, Bradford Rattlers (Previously #3)
2 F Jordan Riviere, Ville-Marie Pirates (Previously #2)
3 F Stepan Levitsky, Bradford Rattlers (Previously #4)
4 F Jordan Briere, Ville-Marie Pirates (Previously #5)
5 D Etienne Borque, Ville-Marie Pirates (Previously #17)
6 D Declan Flanagan, Knights of Meaford (Previously #6)
7 F Jacob Rhodin, Bradford Rattlers (Previously #10)
8 F Olivier Lamothe, Ville-Marie Pirates (Previously #11)
9 F Michael Stegmann, Temiscaming Titans (Previously #7)
10 F Georgi Trofimov, Bradford Rattlers (Previously #12)
11 F Nathan Hardy, Temiscaming Titans (Previously #13)
12 F Matthias Weistche, West Nipissing Lynx (Previously Unranked)
13 F Braedon Mitchell, Temiscaming Titans (Previously #8)
14 F Tomas Coupek, Knights of Meaford (Previously #14)
15 D Emile Lavallee, Temiscaming Titans (Previously #15)
16 F Adam Polach, Knights of Meaford (Previously Unranked)
17 D Danilla Fillipov, Bradford Rattlers (Previously Unranked)
18 F Swen Meusy, Bradford Rattlers (Previously #20)
19 D Triston Sorenson, Muskoka Shield (Previously #18)
20 F Felix Tougas, Bancroft Rockhounds (Previously #19)
South Division
Goalies
1 Zach Smirniw, Durham Roadrunners (Previously #3)
2 Nicholas Lewicky, North York Renegades (Previously #2)
3. Dominic Marquis, Bradford Bulls (Previously #1)
4 Christopher Thompson, North York Renegades (Previously #4)
5 Ethan Sensenig, Bradford Bulls (Previously Unranked)
Players
1 F Ryan Fritz, North York Renegades (Previously #1)
2 F Ryan Hunter, Bradford Bulls (Previously #2)
3 F Joseph Lionti, North York Renegades (Previously #4)
4 F Trevor Urqhart, Durham Roadrunners (Previously #17)
5 D Jedidja Somersall, North York Renegades (Previously #3)
6 D Esa Patton, Bradford Bulls (Previously #8)
7 F Kyle Smith, Durham Roadrunners (Previously #5)
8 F Samuel Senft, Windsor Aces (Previously #6)
9 F Mikael Simon-Serroul, Durham Roadrunners (Previously #9)
10 D Josh Booker, Bradford Bulls (Previously #10)
11 F Hayden Webster, Durham Roadrunners (Previously #7)
12 D Niko Andreopolous, North York Renegades (Previously #18)
13 F Ryan Howe, Bradford Bulls (Previously Unranked)
14 D Darius Mani, North York Renegades (Previously Unranked)
15 F Malcolm Campbell, St. George Ravens (Previously #12)
16 F Thomas Murphy, Northumberland Stars (Previously #13)
17 F Andras Kehl, Niagara Predators (Previously #15)
18 D Bo Stevenson, Northumberland Stars (Previously #16)
19 F Daniel Johnson, North York Renegades (Previously Unranked)
20 F Evan Camara, Streetsville Flyers (Previously #20)
West Division
Goalies
1 Bradley Roncin, High Prairie Red Wings (Previously #1)
2 Jack Garner, Mackenzie Mountaineers (Previously #2)
3 Skyler Di Lallo, Northern Alberta Tomahawks (Previously #3)
4 Boden Derbyshire, Kitimat Saax (Previously Unranked)
5 Joseph Isaac, High Prairie Red Wings (Previously Unranked)
Players
1 F Kaden Cardinal, High Prairie Red Wings (Previously #1)
2 F Keegan Ferguson, High Prairie Red Wings (Previously #2)
3 F Tyrell Shott, Northern Alberta Tomahawks (Previously #3)
4 F Jaxon Krupa, Kitimat Saax (Previously #9)
5 F Jesse Swanson, Edson Eagles (Previously Unranked)
6 F Bryant Joseph, Northern Alberta Tomahawks (Previously #4)
7 F Ethan Many Fingers, High Prairie Red Wings (Previously #6)
8 D Deondre McCarthy, Northern Alberta Tomahawks (Previously #5)
9 D Kaden Desjarlais, High Prairie Red Wings (Previously #7)
10 F Michael Beaverbones, Northern Alberta Tomahawks (Previously #8)
11 D Tyson Mitchell, Edson Eagles (Previously #10)
12 F Louis Allen, Edson Eagles (Previously #11)
13 F Kyler Steinhauer-Morin, Northern Alberta Tomahawks (Previously #12)
14 F Alex Kronewitt, Edson Eagles (Previously #13)
15 F Dayton Shantz, High Prairie Red Wings (Previously #14)
16 D Patrick Borque, Slave Lake Ice Dogs (Previously #15)
17 F Aidan O'Rourke, Mackenzie Mountaineers (Previously #16)
18 F Dominic Beaver, Fox Creek Ice Kings (Previously #17)
19 F Colin Starblanket, Burns Lake Timbermen (Previously #19)
20 F Ethan Zago, Gibbons Pioneers (Previously #20)