GMHL Prospect Profile: Vadim Frolov
The Greater Metro Junior 'A' Hockey League will be profiling one 03-05 born prospect per month
January 24th, 2022 at 11:49AM
January 24th, 2022 6:13PM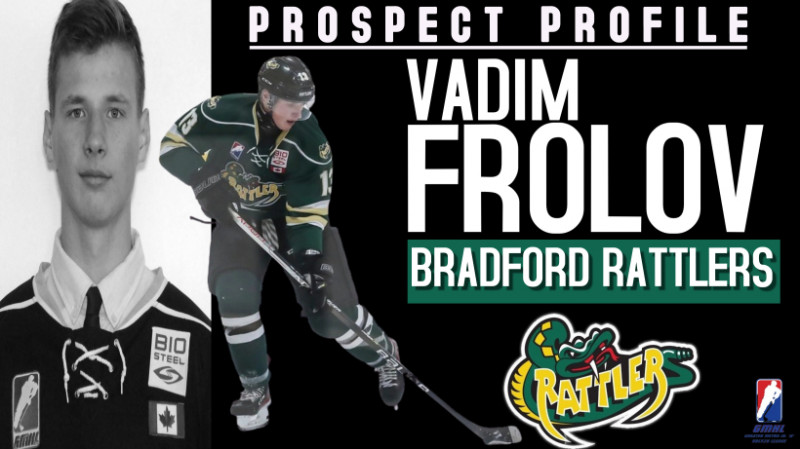 ---
The GMHL will be profiling one prospect per month for the duration of the season, higlighting the league's top 2003-2005 born players who are using the GMHL to develop for their future hockey careers. This month we will be focusing on 2003 F Vadim Frolov.
Vadim Frolov is a 2003 born forward from St. Petersburg, Russia. He is currently pacing all 2003 players in the league in scoring with 42 Points (21G, 21A) in 25 games this season for the Bradford Rattlers. He currently leads a very strong Rattlers team in scoring, while helping the team to an exceptional 22-2-2 record. He is sitting 24th in league scoring (5th in the North Division).
Frolov is enjoying his first season of junior hockey in Canada: "I am very glad that I was able to go to Canada this season and joined the Bradford Rattlers. Here, I was able to open up and show what I am capable of. The team is friendly, the coaching staff is professional, the workouts are interesting and usefu with good sports attitude," Frolov said, "hockey rinks in Canada are smaller, the intensity of the game is higher and more interesting. I live in a wonderful family with two more guys from our team, goalkeeper David and forward Sven. I am happy with everything."
The 6'2", 205lbs two-way forward participated in a Rattlers tryout camp helped in Moscow Russia during the 2021 off-season. Frolov was a student of the prestige SKA St. Petersburg hockey club at the U17 and U16 levels. He was a top scorer with the with their teams and considerd a strong prospect prior to coming to Canada. Vadim brings experience at the junior level playing with Dizelist Penza in Russia's MHL-B. Vadim immediately impressed the Rattlers scouting staff at the tryout as one of the top players on the ice, showing a complete two-way game with scoring upside.
Frolov is one of 36 Russian born players in the league this season and is second amongst all of them in scoring this season. The GMHL has long been a hot bed for Russian prospects to develop before going on to play at the Major Junior, College, and Professional levels of hockey.