GMHL Team Profile: Knights of Meaford
The Greater Metro Junior 'A' Hockey League will be profiling one team per month
January 26th, 2022 at 1:50PM
January 26th, 2022 7:56PM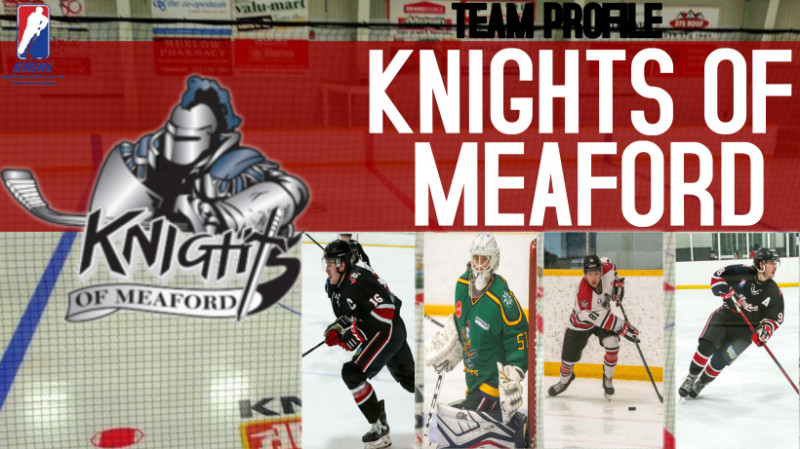 ---
The GMHL will be profiling one team per month for the duration of the season to highlight a team that has combined on ice success with strong fan support, community involvement, a winning culture, and player development. The first team featured with one of the highest level of success on the ice and community combined since joining the league is the Knights of Meaford.
The Knights joined the GMHL in the 2013-2014 season, joining the league and immediately establishing itself as one of the top recruiting teams in the GMHL with the support of an amazing community behind it.
2021-2022 Record (As Of January 26th, 2022): 14-6-4 (3rd in North Division)
All Time Record: 134-159-25 (.422 Winning Percentage)
Leading scorer this season: F Jordan Degouw, 31 Points (65th in League)
All Time Leading Scorer: F Mackenzie Fleming, 168 Points (58th All-time in League History)
Russel Cup Finals Appearances: 0
Russel Cup Championships: 0
League Award Winners: 2 (1x Rookie of the Year, 1x Most Heart)
General Manager: Nathan Parrish
Head Coach: Patrick Drolet (1st Year)
Staff: Owner Sabine Cholet, Director of Scouting Dan Smith, Scout Keegan Bradley, Scout Jeff Oliver, Scout Bill Smith
Captain: Bryan Laureigh
Alternate Captains: Xavier Caza, Martin Badura,
Top Performers: The Knights have rode their way to near the top of the league standings with an extremely well balanced offensive attack with 5 of their players above 20 points on the season (Jordan Degouw, Hayden Philip, Declan Flanagan, Caza and Badura) and another 5 with at least 10 (Headlined by Captain and former 3 Year Major Junior player in the OHL and QMJHL, Bryan Laureigh). On Defense the team had been led by former CCHL2 Defenseman Flanagan and a group of players providing solid D performances on the nightly regular. In net the season started for the Knights with the trio of Justin Frechette, Gavyn McCutcheon and David Reid and they performed admirably winning 1, 2 and 2 games respectively, then the team was joined by star goaltending recruit Dan Sultanov, Sultanov has played his way into one of the top goalies in the division. In 13 games Sultanov has gone 9-4 with a a 2.41 Goals Against Average (5th in the League and 3rd in the Division), and a .939 SVS Percentage (3rd in the League and the Division)
Fan Support and Community Involvement: The Knights have a great relationship with the community of Meaford and have been rewarded with outstanding fan support because of it. The team is often involved in organizing community events and it has raised 10s of thousands of dollars for various charities. They have hosted events for the Touch of Taryn foundation, Two different Autism Community groups raising over $4000 in 2020, and just recently they hosted a Throwback Night where they raised over $4500 for the Canadian Mental Health Association Grey Bruce. The Team not only inspires the community but also its alumni, including all-time leading score Fleming who has been hosting an annual charity tournament in Meaford Called Hockey Hits Cancer for A Childs Voice Foundation and Princess Margaret Hospital Foundation. The Team also is sponsored by dozens of business in the community, making the team really feel like a part of Meaford.
Arena and Facilities: The Meaford & St. Vincent Community Centre & Arena was constructed in 1977 and is located at 151 Collingwood Street, Meaford. The facilities offer a year round venue for community events, special functions, gatherings and ice sports activities. The community centre houses a large 400 person capacity banquet hall/auditorium, a 50 person capacity multi-purpose meeting room, full commercial kitchen facilities, bar service area, washroom facilities, a regulation size 185' x 90' ice pad with spectator seating for 1,000 persons, six changerooms, lobby and licensed concession to meet all your special occasion needs. The facility is fully licensed under the Alcohol & Gaming Commission of Ontario (AGCO).
Notable Active Alumni:
Tyler Sayger: American born goaltender Sayger joined the Knights from St Francis High Prep and put up stellar numbers with a .918 SVS Percentage and a 3.65 GAA in 9 appearances for the Knights in 17-18. He then went on to play for the Rochester Monarchs where he played both NCDC and Tier 3 before committing to the King's College NCAA lll program where he has played for 3 seasons as a Criminal Justice Major.
Kyle Stevens: Another American who joined the Knights was Stevens who came to Meaford from the Vancouver Rangers U18 AAA Program in the US. Stevens put up 42 Points in 35 games. Following that season Stevens went pro in the FPHL where he has been for 4 years with the Danville Dashers, Carolina Thunderbirds, Elmira Enforcers and Binghamton Black Bears and was even called up to the SPHL this season playing with the Vermillion County Bobcats where he played 6 games and scored a goal in his first taste of SPHL call-up action.
Alexander Naskov: Swedish Winger Naskov, was acquired by the Knights in his second GMHL season and did not disappoint fans in Meaford. Naskov scored 56 Points in 31 games after being traded from the Toronto Attack. He returned to Meaford the following season for 8 games where he was even better scoring 23 points before signing pro in Norway with Gjovik for the remainder of the 17-18 season. He then spent a season in Sweden Division 2 and 3 before signing on with Örnsköldsvik HF in the HockeyEttan (Division 1) where he has played in the 3rd highest league in Sweden for the past 3 years.