GMHL Team Profile: West Nipissing Lynx
December 29th, 2022 at 4:47AM
December 29th, 2022 10:48AM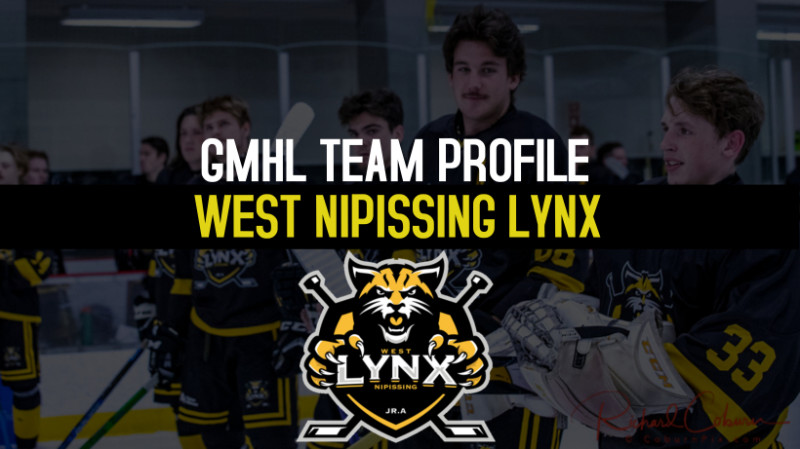 ---
The GMHL will be profiling one team per month for the duration of the season to highlight a team that has combined on ice success with strong fan support, community involvement, a winning culture, and player development. The third team featured this season and the first from the North is the West Nipissing Lynx
The Lynx joined the GMHL in 2010-2011 as the Sturgeon Falls Lumberjacks and had immediate success. In just their second season they captured the GMHL Russell Cup Championship. They were also apart of the first and only outdoor regular season game in front of 400 fans. After an ownership change the Lumberjacks were rebranded as the West Nipissing Lynx where they have been able to recruit some of the top players in Northern Ontario while being backed by one of the most supportive fan bases in the league!
2022-2023 Record (As Of December 29th, 2022): 11-17-0 (5th in the North Division)
All Time Record: 176-292-20 (.361 Winning Percentage)
Leading scorer this season: F Stephane Philion, 33 Points (66th in League)
All Time Leading Scorer: F Thomas Farrell, 160 Points (72nd All-time in League History)
GMHL Finals Appearances: 1
GMHL Championships: 1
League Award Winners: 5 (2x Most Heart, 1x Rookie of the Year, 1x Top Forward, 1x Top Defensive Forward)
General Manager: Mathieu Gaudette
Head Coach: Moe Mantha (1st Season)
Staff: President Pat Miron, Assistant Coach Dennis Commanda, Trainer Austin Taylor
Captain: Braden Simon
Alternate Captains: Emils Erglis, Josh Boucher, James Taylor
Top Performers: The Lynx have been led this season offensively by the teams leading scorer Stephane Philion. Behind Philion is forward Liam Thor and reigning GMHL Rookie of the year in the North Division Mathieu Savignac while James Taylor and former NOJHL Captain Josh Boucher provide veteran leadership and skill to the forward group. On the back end the trio of Simon, Erglis and Blake Barber have the Lynx strong on Defense, it is net however where the Lynx shine most. With the combination of Cory Richardson and Joel Rainville the Lynx have one of the most dynamic 1-2 goalie punches in the league, capable of making saves to swing games in the Lynx favor.
Fan Support and Community Involvement: The Lynx regularly are supported by hundreds of fans for their home games at the Sturgeon Falls Arena. They are a big part of the community hosting Halloween and holiday events as well as helping to encourage the minor hockey program in Sturgeon Falls to continue its growth and expansion.
Arena and Facilities: One of the best ice skating rinks in West Nipissing, ON, Sturgeon Falls Arena Ice Skating Rink is a 1 sheet indoor ice skating rink is open year round. It was founded in 1974.
Notable Active Alumni:
Tobias Odjick: After playing four years of junior hockey split between Junior 'B' and Junior 'A' it was the West Nipissing Lynx that Tobias Odjick decided to finish his junior hockey career with. After scoring 11 points in 8 games, he was on his way to the pro ranks with the Danbury Hat Tricks in the FHL. The Hat Tricks re-signed him for this season where he has put up 2 points per game in Danbury.
Louis Busch: Former Lynx netminder Louis Busch came to the Lynx by way of Germany and appeared in 13 games for West Nipissing in 2017-2018. Following his time in West Nipissing he would eventually find his way back to Germany where he has played professionaly for four years split between the Germany4, Germany3 and DEL2 Leagues.
Mikhail Patrikeyev: From the Lumberjack days, Patrikeyev called Sturgeon Falls home for the 2012-2013 season. He scored 13 points in his first season of junior hockey before making his way back to Russia where he would play 3 seasons of Major Junior before turning pro in the Russia3 League. The last 6 seasons have been spent between Russias top 2 leagues, the VHL and the KHL