GMHL Three Stars of the Week Jan 30 - Feb 5
Coupek, Smith, and Shott rise for their teams
February 6th, 2023 at 9:17AM
February 9th, 2023 4:29PM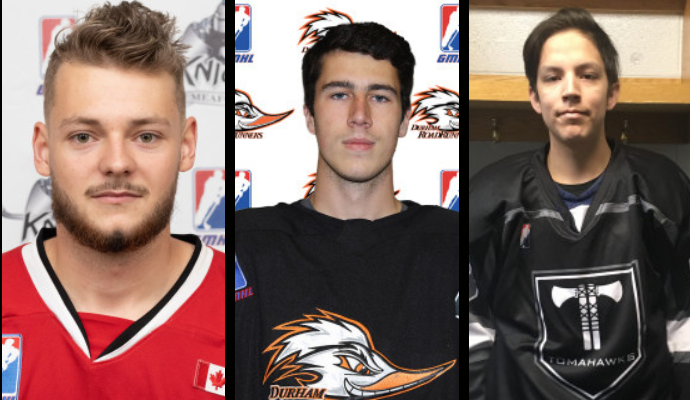 ---
The GMHL players performed at a top level last week. Providing exciting games that displayed the top end talent that is in our league. Every week, multiple players deserve a star of the week. However, this week, the honours go to Tomas Coupek of the Meaford Knights in the North Division, Kyle Smith of the Durham Roadrunners in the South Division, and Tyrell Shott of the Northern Alberta Tomahawks in the West Division.
1st Star:
Tomas helped the Knights pick up two big wins this week with a production of 3 goals and 4 assists for 7 points in 2 games. This brings his total season numbers to 32 goals and 32 assists for 64 points in 33 games.
2nd Star:
Kyle had a very dominant week for the Roadrunners as he put up 2 goals and 9 assists for 11 points in 2 games. This brings his season numbers to 22 goals and 54 assists for 76 points in 33 games the season.
3rd Star:
Tyrell continued his dominance in the Ouest as he put up 4 goals and 3 assists for 7 points in 2 games this week. This brings him 2 points shy of 100 with 47 goals and 51 assists on the season.
Honourable mentions this week go to:
Durham Roadrunners:
Trevor Urquhart 4-3-7 in 2
North York Renegades
Ryan Fritz 7-3-10 in 2
Meaford Knights
Declan Flanagan 2-4-6 in 2
Bradford Rattlers
Chris Castrignano 4-2-6 in 2
High Prairie Red Wings
Kaden Cardinal 4-2-6 in 2
Burns Lake Timbermen
Colin Starblanket 5-2-7 in 2
Northern Alberta
Michael Beaverbones 5-2-7 in 2