Knights Fundraise $4000 For Meaford Autism Community
The Knights of Meaford Autism game on Thursday, January 23, was a win on two fronts when the Knights
February 3rd, 2020 at 12:30PM
February 3rd, 2020 6:33PM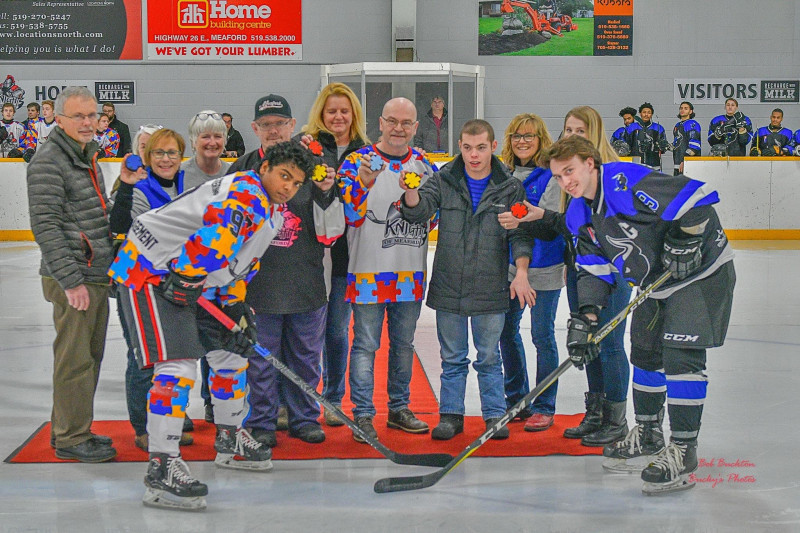 ---
The Knights of Meaford Autism game on Thursday, January 23, was a win on two fronts when the Knights defeated the Bradford Bulls 3-1 and raised upwards of $4,000 for special needs adults struggling with autism in front of a packed house.
Proceeds of the Knights of Meaford autism fundraiser will go to Events for Life and Community Living Meaford, two local programs that offer support programs for special needs adults.
Team officials and supporters and community volunteers sold baked goods, collected donations, and auctioned off specially designed Autism Awareness game jerseys. Leeky Canoe sponsored a shoot-out and the MacKay family on behalf of Dairy Queen Meaford donated gift certificates for the first-, second-, and third-place winners of the chuck-a-puck contest. Game Night Sponsors for the Event were - Chef at Home Catering (Gilles Hache), Stone Project Management, Bruce Street Technology, Grey Noise Entertainment, Rotary Club of Meaford, BrokerLink, and the Chollet family and much more.
The event was a success for all, according to Autism Awareness Ambassador Mary Solomon. Events for Life participants took part in the opening ceremony, the chuck-a puck, and the shoot-out. Parents and support staff working with adults with autism met and exchanged information. "A real plus was that we got to know about some organizations that support autism that we didn't know about, organizations like South Georgian Bay Parents of Children with Autism and Families for Autism," she said. "Also, a number of people mentioned they were pleased that the proceeds were staying local."
"Hockey is often described as fast-paced, skilled, aggressive, rough but not usually pure joy. Attending the Meaford Knights' Autism Awareness Game was what hockey is about but the joy that radiated from the fans was amazing. Many of the fans were first timers with developmental challenges including autism. As the mother of an adult daughter with autism it is not always easy to produce joy in the world of an autistic but the Knights did it. The players were enthusiastic and respectful with the fans and the fans responded. It was a pleasure to work with the Knights as they showed great interest and creativity in planning and implementing this awareness game. They showed wisdom in choosing two local non-profit groups serving individuals with autism as the recipients of the funds raised. It has brought the team closer to the community and the community closer to the Knights. Our family is so impressed we are getting season tickets next year and will gladly help with any Knights endeavour. It also helped bring the local autism community closer together through the awareness provided by the game. We are total converts to this Junior Hockey Team. Go Knights Go!" -Mary Solomon, Event Coordinator "
Jessica Steele from Autism Ontario raved about the event having this to say about the night, "The Meaford Knights Autism Awareness game was an amazing night of a community coming together to show support and raise awareness. It is so meaningful that the proceeds will go to local charities. 1 in 66 children in Canada have autism. Children with autism grow up to be adults with autism and it is important to support people with ASD across the lifespan. Autism Ontario wants people to see the potential in all children/adults with ASD and we are thankful to the Meaford Knights and everyone involved for showing their support and raising awareness. Autism Ontario is lucky to be a part of such a fantastic community. Thank you!"
All around the hockey world this year the sentiment has been, "Hockey is for Everyone" The Knights of Meaford showed exactly what that means on this special night that meant so much to the community, the team and every individual involved.
The Knights will be hosting the 2nd Annual Autism Awareness Game in January 2021!