Meaford Knights Host Ashley Clock Memorial Game
The Knights will be facing the Temiscaming Titans
February 2nd, 2023 at 8:35AM
February 2nd, 2023 2:37PM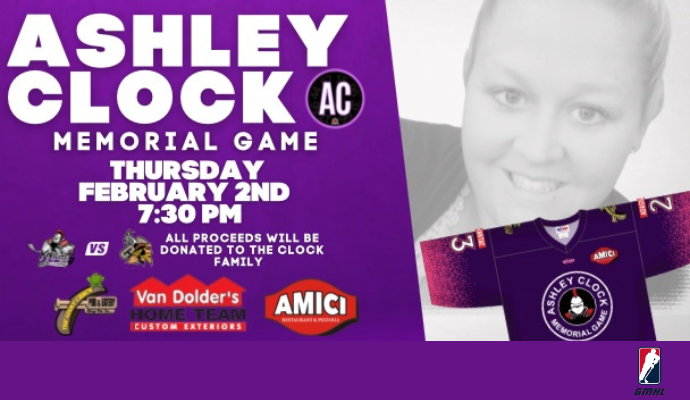 ---
The Knights of Meaford are hosting a memorial game Thursday to raise funds for the young daughters of a woman who helped take care of the team and its players for 10 years as a faithful volunteer and billet mom.
Ashley Clock, a single mother, died suddenly and unexpectedly on Nov. 12, 2022, at the age of 39. She is survived by her two young daughters, Adassia and Shantae.
The Ashley Clock Memorial Game will pit the Knights of Meaford against the Temiscaming Titans inside the Meaford and St. Vincent Community Centre Thursday night in Greater Metro Junior A Hockey League action.
As part of the game, the Knights will wear a special purple jersey in honour of Clock and her family. Those jerseys will then be auctioned following the game with all proceeds donated to the Clock family.
Purple was Clock's favourite colour, and Adassia, Clock's eldest daughter, helped design the memorial game night jerseys.
The memorial game will also feature a raffle, chuck-a-puck contest, and special Ashley Clock helmet stickers for sale at the door. Fans are invited to show their support by wearing purple to the game.
Clock served as a team billet mom for ten years. She hosted players from all around the world in her home. Clock helped provide the comforts and support of a family to players who came to suit up for the Knights of Meaford and needed a "mom away from home" during the hockey season. At the time of her death, she was billeting Riley Lavallee from northern Ontario and Adam Jiracek from the Czech Republic.
Knights officials described Clock as an invaluable member of the team, a dedicated volunteer with an upbeat and positive spirit who was generous with both her time and love.
A former player who stayed at the Clock home, Callum Queenan from Whitley Bay, England, flew to Canada for Clock's funeral. An example of the effect she had on the hockey players who came through Meaford.
Clock didn't just provide a home for players, the team said. She would help with charity games, all-star nights, fundraisers, barbecues, and any other event the tight-knit group needed help with, especially in the early days of the team's operation.
In addition to the team's memorial game fundraising events, the Owen Sound Ice Hawks girls' hockey program will run a donation raffle at the game.
Fans are encouraged to bring cash to help support the family at the memorial game. Alternatively, an e-mail address will be made available via the team's official social media channels to accept e-transfers.
Anyone who wishes to bid on a special purple Knights jersey must do so in person.
Meanwhile, the Owen Sound Attack are planning to host an online auction later this month or in early March to raise money for an education fund to help support Adassia and Shantae. Darren Clock, Ashley's brother, is an assistant trainer with the Attack as well as a paramedic.
The Attack's online auction will feature sports memorabilia, packages donated by local businesses, and a jacket designed by former OHLer Cameron Lizotte and worn by Sportsnet host Ron MacLean during the Hockey Day in Canada broadcast live from Owen Sound in January.
Puck drop for the Ashley Clock Memorial Game between the Titans and Knights is set for 7:30 p.m. inside the Meaford and St. Vincent Community Centre. The two North Division clubs are currently separated by five points, with Meaford on top of the Titans in third place with a record of 20-14-0-1.
- Greg Cown Owen Sound Sun TImes