North Division Playoff Preview
Rattlers finish on top
February 21st, 2023 at 8:01AM
February 21st, 2023 2:05PM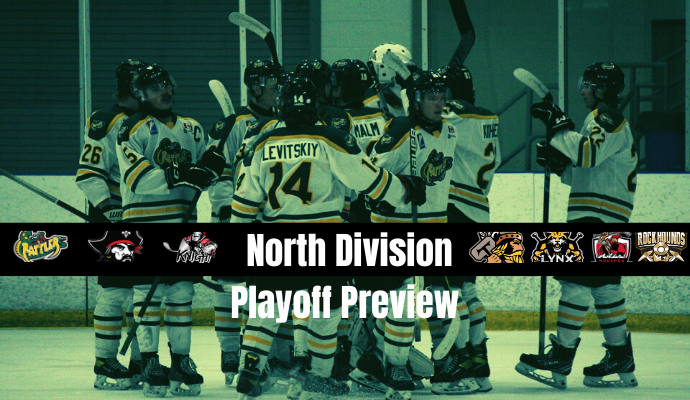 ---
The Bradford Rattlers come off a solid season under their new coach David Mooney. With 38 Wins, 2 Losses, and 2 OT Losses for 78 Points this season, the Rattlers have been able to count on multiple sources on offence including star forward Stepan Levitskyi. Stepan scored 44 goals and 49 assists for 93 points and will be looking to help his team in the playoffs.
The Ville-Marie Pirates come off a season that showed the improvements that they made to their roster. From 21 wins last season, the Pirates have 32 wins this season. With the addition of former QMJHL player Jordan Briere and the dominant season of veteran Jordan Riviere, the Pirates were able to cement themselves in 2nd place of the North Division. Look for Riviere to follow his 45 goals and 58 assists for 103 points in the playoffs.
The Meaford Knights are another team that improved on their record from last season. Being able to count on Adam Polach and Tomas Coupek made a big difference for them this season. Tomas scored 35 goals and 40 assisted for 75 points and will be looking to continue his strong showing to help Adam and the rest of the Knights in the playoffs.
Although the Temiscaming Titans did not to repeat the season they had last season, they will be looking to create surprises in the playoffs. They will be counting on Nathan Hardy and Eloi Bouchard to make that happen. Nathan continued his offensive domination from last season by scoring 27 goals and 36 assists for 63 points. Eloi will look to build off his undefeated success in the playoffs to help the defending champions defend their trophy.
The Lynx once again find themselves near the bottom of the standings. However, they can hope for the playoffs as they did improve their record from the last season. With returning players Mathieu Savignac and Stephane Philion the Lynx will try to disrupt the plans of the top teams this season. In playoffs, the Lynx can count on Mathieu to produce offence as he will try to follow his season stat line of 22 goals and 26 assists for 48 points.
The Shield is another team that had hoped for a stronger showing this season. However, like the Lynx, they improved their overall record compared to last season. Triston Sorenson has been a big reason why the Shield has had more success this year over the last as he produced 14 goals and 34 assists for 48 points.
The Rockhounds have has a tough season as they have stayed last in the North Division all year. However, 18 year old Felix Tougas has showed a lot of promise with his 18 goals and 16 assists for 34 points. Come playoff time Felix and new addition Aaro Tuovinen will look to help their team fight in the playoffs.
First round matchups are:
Rattlers: First round Bye
Ville-Marie v Bancroft
Meaford v South Muskoka
Temiscaming v West Nipissing