Rattlers at Run for Bradford
Supporting Mercy 4 Mankind & Ahmadiyya Muslim Youth Association
September 27th, 2022 at 9:36AM
September 27th, 2022 2:46PM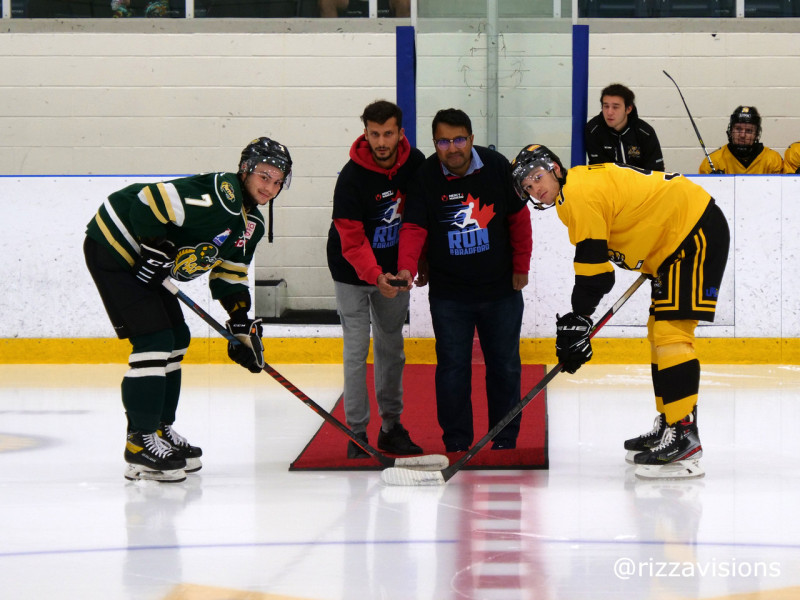 ---
The GMHL and its teams hold their communities at heart. Last week, the Bradford Rattlers proved that by attending and supporting a local Bradford event.
Last Sunday, the Rattlers hosted the West Nipissing Lynx for their home opening game. They used this platform to show support to the 'Run for Bradford' event hosted by Mercy 4 Mankind & Ahmadiyya Muslim Youth Association.
The fundraising event encouraged participants to join a 1k, 5k, or 10k walk to help support the cause. Participants were able to donate to the Bradford Food Bank and Bradford Public Library.
The Rattlers took this opportunity to donate tickets to participants that took part in the walk. These participants were able to enjoy the Rattlers home opening game. They also collected donations and non-perishable food items to contribute to the Run for Bradford donations. Rattlers also honoured the Run for Bradford by having two of their representatives partake in the ceremonial puck drop.