Rattlers Morris Commits to Adrian College
The Bradford Rattlers are proud to announce #22 F Brayden Morris has been committed to the Adrian Co
February 5th, 2020 at 8:55AM
February 5th, 2020 2:56PM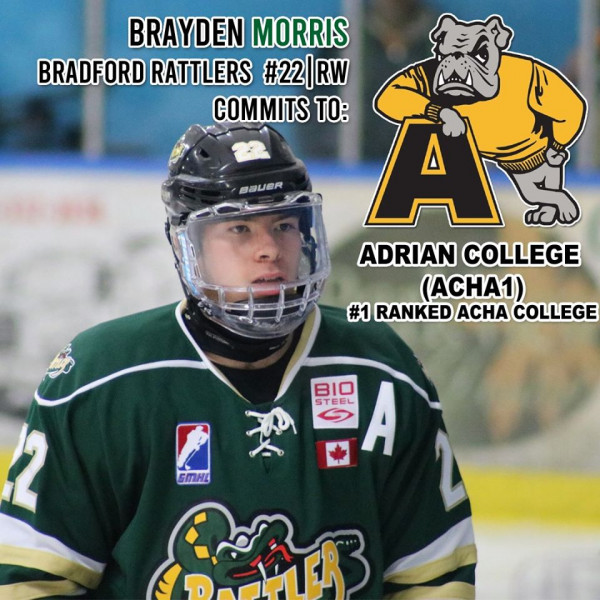 ---
The Bradford Rattlers are proud to announce #22 F Brayden Morris has been committed to the Adrian College (ACHA1)!! Adrian College is the #1 Ranked ACHA School Nationally and currently undefeated this season.

Morris has been a dominant forward for the #Rattlers each of the past two seasons. Thus far, he has produced 120 Points (79G, 41A) in 63 games. Morris has had some of the most successful offensive seasons in Rattlers history and attracted eyes from several NCAA and ACHA Schools. He decided on Adrian due to the championship winning history and athletic program.

"I'm very excited and appreciative to start my college career at Adrian," said Morris, "A lot of people have helped guide me to this point. First, I want to thank my family for everything they have done for me to achieve my dream. Thank you to Bob Russell and Jim Thompson for mentoring through junior hockey. To my Coach Ric Jackman for believing in me and working with me. And to my GM Sean Werth for taking a chance on me and talking to all the schools for me. I'm excited to play for Gary Astalos and Adrian College next year."