Rivalry Week: Round One of the Battle of Bradford goes to the Rattlers
Rattlers win sixth game in a row
November 10th, 2022 at 8:16AM
November 10th, 2022 2:20PM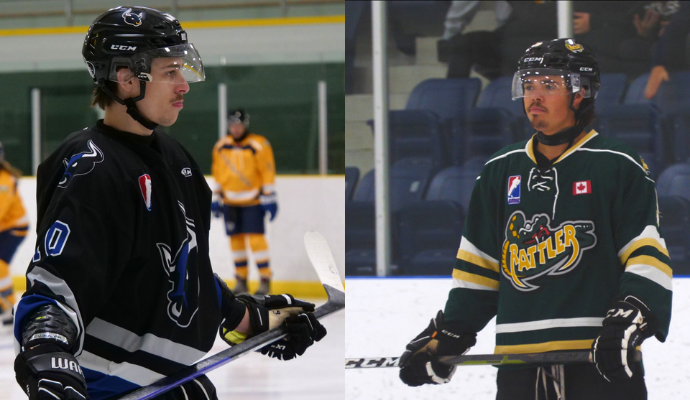 ---
Wednesday November 9th saw the Bradford Bulls host the Bradford Rattlers at the Bob Falls Arena. The 8PM puck drop led to a quick start from the Rattlers as Stepan Levitskiy opened the scoring at 1 minute 34 seconds of the first period. Swen Messy picked up the assist on the play. The Rattlers then doubled down with a power play goal by Jesper Eriksson (10:15) assisted by Lucas Sturm. The Bulls responded late in the period with a power play goal of their own by Josh Booker (19:58) assisted by Andrew Reynolds. The second period saw a tight checking game that offered no scoring and good goaltending on both sides.
With a 2-1 lead going into the third period, the Rattlers scored 3 unanswered goals. First, Jacob Rhodin scored at 4:48 in the period assisted by Jesper Eriksson. On the power play, Stepan Levitskiy scored his second of the game assisted by Jesper Eriksson. Then, to make it 5-1, Ryan St. John scored his first on the year assisted by Adam Witkowski and Stepan Levitskiy.
Shots were even at 30-30 where each period saw both teams shoot 10 times.
The three stars of the game:
#1: Stepan Levitskiy with 2G and 1A
#2: Oliver Balazs with 29 saves and a .967 save percentage
#3 Jesper Eriksson with 1G and 2A
As the Rattlers take round one of the battle of Bradford, the two teams will be playing each other again on January 29th at the BWG Leisure Centre in Bradford. The Rattlers are now 9-1-0-1 with 19 points for second in the North, while the Bulls are 11-2-0-0 with 22 points for third in the South. Next up in the Rivalry Week is the Friday night matchup between the High Prairie Red Wings and the Northern Alberta Tomahawks.