Team Profile: St. George Ravens
The Ravens joined the GMHL in the 2013-2014 under the playing name of the Halton Ravens, they were k
January 4th, 2020 at 9:48AM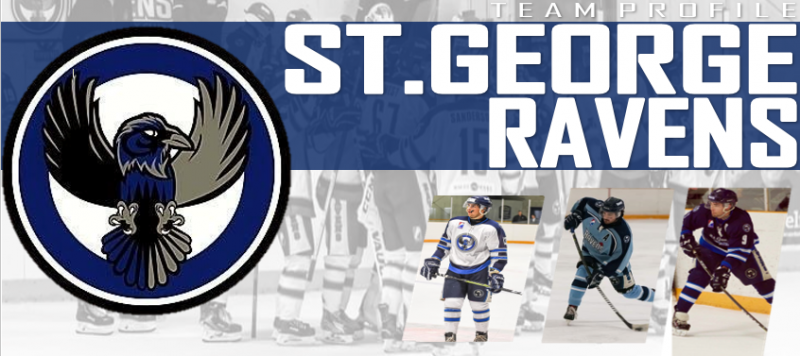 ---
Team Profile: St. George Ravens
The GMHL will be profiling one team per month for the duration of the season to highlight a team that has combined on ice success with strong fan support, community involvement, a winning culture, and player development. This month we will be featuring the reigning back to back South Division Champions, the St. George Ravens.
The Ravens joined the GMHL in the 2013-2014 under the playing name of the Halton Ravens, they were known as such until the 2016-2017 season when they rebranded as the St. George Ravens and ushered in an era of excellence. Since the rebrand the Ravens have been the most successful team in the GMHL going 128-17-3 and representing the South Division in the Russell Cup finals for the past two seasons.
2019-2020 Record (As Of January 2nd, 2020): 24-5-0 (1st in South Division)
All Time Record: 278-70-13 (.788 Winning Percentage)
Leading scorer this season: F Christian Polillo, 83 Points (3rd in League)
All Time Leading Scorer: F Chris Haigh, 221 Points (22nd All-time in League History)
Russel Cup Finals Appearances: 2 (2017-2019)
Russel Cup Championships: 0
League Award Winners: 8 (1x MVP, 1x Coach of the Year, 1x Points Leader, 1x Defenseman, 1x Top Defensive Forward, 1x Forward of the Year, 2x Top Goaltender)
General Manager: Dane O'Neill
Head Coach: Jordan Hatzinger (1st Year)
Staff: Owner Brian O'Neill, Trainer/Doctor Spencer Stevenson, Assistant Coach Tysen Williamson, Equipment Manager Brad Hornby, Assistant Equipment Manager Jay Newall, Ticket Sales Cassidy, Special Projects Wanda Harding, Play by Play John Molson, PA and Music Abe Hanhan, Gameday Operations Manager Levi Snook, Timekeeper Cameron Burtis
Captain: Christian Polillo
Alternate Captains: Matt Marinier, Kyle West, Ben Maidment
Top Performers: St. George has developed into a hotbed for Jr B players to continue their careers following their last year of eligibility. This season is no different as Ravens top forwards Christian Polillo (83 Points) and Kyle West (78 Points) both came to St. George following very successful careers in the GOJHL. The same goes for recently named defenseman of the month Matt Marinier who is averaging nearly 2 points per game on the back end. In net the Ravens have been strong historically and continue this season with Elio-Emmanuel Noce playing in his 5th season in the GMHL including a stint last season where he was given a look by the ECHLs Brampton Beast.
Fan Support and Community Involvement: The Ravens have done well to build an outstanding fan base that supports the Ravens, through their success the fans have had lots to cheer for over the past few seasons. They have amassed over
Arena and Facilities: The St. George Ravens play their home games out of the South Dumfries Community Centre. One of the best ice skating rinks in Saint George, ON, South Dumfries Community Centre Ice Skating Rink is a 1 sheet indoor ice skating rink is open seasonally. It was founded in 1970 has a full kitchen and bar, and seating for hundreds of fans. They have amassed over 2800 combined followers n Instagram, Facebook and Twitter. They participate often in community events including public skating with the Ravens players.
Notable Active Alumni:
Shane Bennet: American born Bennet played for the Ravens during the 2014-2015 season and had one to remember scoring 108 points (53G, 55A) in 30 games on route to winning the GMHL MVP award that season. He joined the Ravens following a 255 point OJHL career that saw him named to 2 OJHL All-Star teams. Following that season Bennet played a season of NCAA hockey for SUNY-Cortland before graduating to professional hockey where he has flourished, currently in his 3rd season in the SPHL he has 14 Points in 15 games and received an invite to the training camp of the ECHLs Fort Wayne Komets.
Liam Hurley: Lasts seasons second leading scorer for the South Division Champion Ravens was Liam Hurley who amassed 96 Points (38G, 58A) in 35 games for the Ravens following a four year junior career spent between the GOJHL and the NOJHL. Currently playing hockey in the USports league while studying at Ontario Tech University and has 3 goals in 14 games for the Ridgebacks.
Colin Furlong: Despite a short time with the Ravens organizations Furlong posted numbers well enough to immediately join the Wilfred Laurier USports team halfway through his season. Played 4 seasons of junior in the GOJHL and OJHL prior to joining the then Halton Ravens and then proceeded to spend 4 seasons at WLU. After his college hockey career Furlong went to the AlpsHL which is a top level team in Central Europe and has posted with a sub 1.50 GAA and a .940 SVS% in 54 career appearances.