Team Profile: Temiscaming Titans
The GMHL will be profiling one team per month for the duration of the season to highlight a team tha
November 19th, 2019 at 10:19AM
November 19th, 2019 4:24PM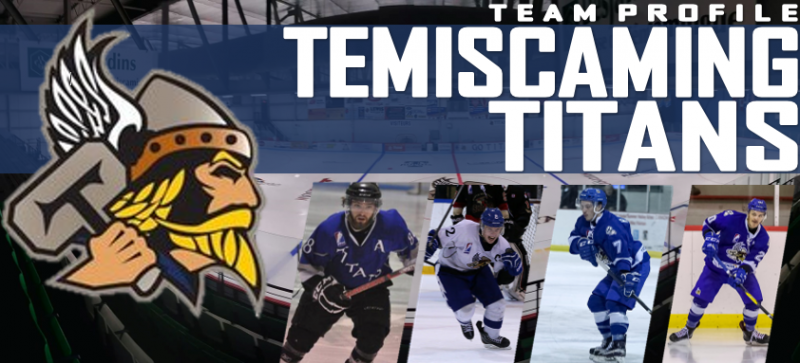 ---
The GMHL will be profiling one team per month for the duration of the season to highlight a team that has combined on ice success with strong fan support, community involvement, a winning culture, and player development. The first team featured with one of the highest level of success since joining the league is the Temiscaming Titans.
The Titans rejoined the GMHL in the 2011-2012 season, joining the league and rebranding from the Temiscaming Royals of the NOJHL (who actually started in the GMHL themselves in the 2007-2008 season). The Titans went to three Russel Cup Finals apperances in their first four seasons, culminating in a Russel Cup Championship in 2014-2015.
2019-2020 Record (As Of November 15th, 2019): 12-5-1 (4th in North Division)
All Time Record: 272-69-13 (.786 Winning Percentage)
Leading scorer this season: F Marc-Antoine Turcotte, 67 Points (1st in League)
All Time Leading Scorer: F Ryder Murray, 385 Points (3rd All-time in League History)
Russel Cup Finals Appearances: 3 (2011-2013, 2014-2015)
Russel Cup Championships: 1 (2014-2015)
League Award Winners: 8 (2x MVP, 1x Points Leader, 1x, Most Sportsmanlike, 1x Rookie of the Year, 1x Top Defensive Forward, 1x Forward of the Year, 1x Top Goaltender)
General Manager: Francois Harrisson
Head Coach: Sebastien Lacroix (1st Year)
Staff: President Pascal Labranche, Trainer Harold Danby, Equipment Manager Peter Pope, Bus Driver Ken Richards, Off-Ice Coordinator Joanie Morin, Logistics Denis Lacourse, Hosting Manager Stephanie Monette, Assistant Coach Alain Houle
Captain: Alex Provost-Ross
Alternate Captains: Yannick Ethier, Dakotah Woods, Aleck Forcier
Top Performers: The League's top line resides in Temiscaming and has been scoring at a blistering pace. Marc-Antoine Turcotte, Zacharie Maheu and Yannick Ethier are the league's highest scoring trio with a total of 185 points combined in the team's first 18 games. On the back end the team is led by a pair of veteran defenseman in Aleck Forcier and Dakotah Woods. Forcier in specific has been spectacular this season as he is tied for the league lead in scoring among defenseman with 24 points, he has also helped the Titans allow the 7th fewest goals among North Division teams. In net the Titans have a two headed monster as both Bobby Cloutier and Eloi Bouchard have appeared in 10 games this season with each of them picking up at least 5 wins.
Fan Support and Community Involvement: The Titans have a great relationship with the community of Temiscaming and have been rewarded with outstanding fan support because of it. The team is often involved in community events such as this month's Remembrance Day wreath ceremony where the captains laid down the wreaths while the entire team took part. The Titans also organize public skates with the team and many players end up calling Temiscaming a second home after their playing careers end. The Titans are etched in the community and the fans reward them with droves of support, showing up by the hundreds to Le Centre to support their boys in blue many of whom are wearing their jerseys including the employers and employees of many restaurants and establishments in the area. On their social media accounts (Facebook and Twitter) the Titans have garnered well over 4000 fans from countries all over the world.
Arena and Facilities: The Temiscaming Titans hockey team has some of the best facilities in the league which includes pro style 900 seat rink, semi-Olympic swimming pool, whirlpool, sauna, squash court and full gym including cardio equipment and Atlantis weight lifting equipment.
Notable Active Alumni:
Deverick Ottereyes: Former Major Junior player in the QMJHL, Ottereyes joined the Titans for the 2015-2016 season and had 32 Points in 14 games including playoffs. Following his time with Temiscaming Deverick went on to play for Nipissing University (USports) and is currently in his 4th season and has 7 points in 11 games.
Oleg Khalemin: Another member of the 2015-2016 Titans squad Khalemin was a point per game defenseman in the regular season and playoffs before he went on to play parts of three seasons in Russias second highest league the VHL. Currently Khalemin is playing in North America's fourth highest league the SPHL where he has appeared in 7 games for the Macon Mayhem
Joey Molfetta: American forward Joey Molfetta was a deadline acquisition during the Titans Russell Cup Championship season of 2015-2015. He provided top level scoring ability finishing third on the team in playoff scoring with 22 points in 17 games (leading the team in playoff assists). Molfetta is playing his 5th season of college hockey, this year suiting up for Robert Morris University and has 10 points in 13 games played.