The GMHL 50 Point Club
Ferguson, Fritz, and Riviere hit the mark
November 16th, 2022 at 9:01AM
November 16th, 2022 3:02PM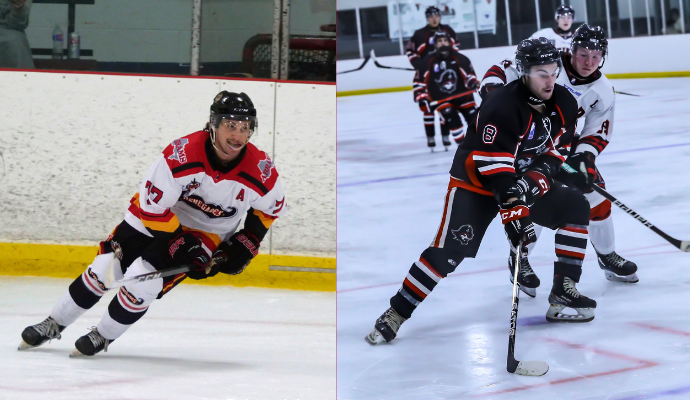 ---
As of Wednesday November 16, the GMHL have their first 50 point players in the league. In the West Division, #94 Keegan Ferguson of the High Prairie Red Wings leads the pack with 25 goals and 29 assists for 54 points in 15 games.In the South Division, #77 Ryan Fritz of the North York Renegades with 21 goals and 29 assists for 50 points in 17 games. In the North Division #8 Jordan Rivière of the Ville-Marie Pirates with 21 goals and 29 assists for 50 points in 17 games.
On the 50 point watchlist in the West Division there is Red Wings' Dayton Shantz with 47 points in 17 games, Tomahawks' Tyrell Shott with 46 points in 16 games, and Red Wings' Ethan Many Bears with 46 points in 15 games. In the South Division there is Renegades' Joseph Lionti who has 44 points in 16 games. While in the North Division there is Pirates' Olivier Lamothe with 43 points in 17 games.
The 20 goals club has also been reached in the GMHL as 8 players has found the back of the net at least 20 times so far this season. Ice Dogs' Kaden Cardinal leads the pack with 27 goals followed by Keegan Ferguson (25), Samuel Senft (23), Jordan Rivière (21), Ryan Fritz (21), Tyrell Shott (21), Olivier Lamothe (20), and Andras Kehl (20).
The GMHL will continue to track our players' accomplishments as the season goes on, and will look to shine light on individual accomplishments.The road to 100 points and 50 goals is on, and only time will tell who will make it to those marks!