2022 Russell Cup Playoff Details
The GMHL will enter the 2022 Playoffs with all teams competing for the prized league championship
February 17th, 2022 at 10:37AM
March 8th, 2022 4:34AM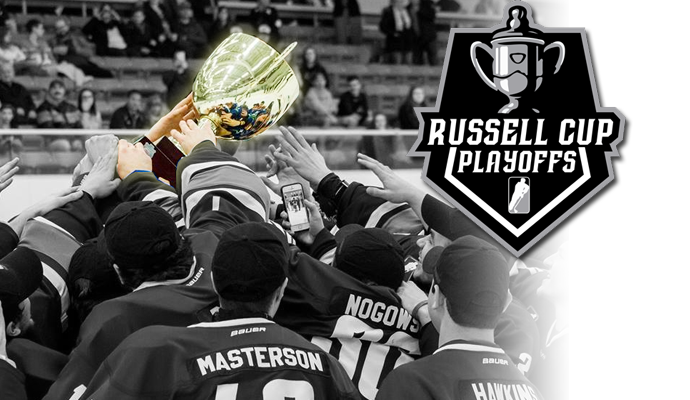 ---

2022 Russell Cup Playoffs
The GMHL will enter the 2022 Russell Cup Playoffs with all teams competing for the prized league championship -- the Russell Cup.
The North and South Divisions will have all 19 Ontario/Quebec teams competing across four playoff rounds. While, the GMHL West Division will be playing for their West Divisional Championship.
Due to the continued Covid-19 restrictions and uncertainity, there will not be a National Championship held this year. The winners of Ontario/Quebec and the West will be the respective season champions.
Ontario/Quebec:
The North and South Divisions will play within their respective divisions to determine each Divisional champion. The winners of the North and South Divisions will faceoff in the Russell Cup Final.
Teams are reseeded following every round in reference to the Regular Season standings with the remaining teams -- thus the bracket is subject to change. All teams are given an opportunity in playoffs. Qualifying play-in rounds will be played to determine a division-based eight team playoff bracket. The top 7 teams in each division at the end of the regular season are automatically seeded into the playoff bracket, while the remaining teams will play single game eliminations for the final seed.
In each division, the highest seed receives home ice advantage in reference to the regular season standings.
Division Quarter Final - Best of 3
Division Semi-Final - Best of 5
Division Final - Best of 7
Russell Cup Final - Best of 7
Division Quarter-Final
Best of 3
(March 9 - March 13)
Division Semi-Final
Best of 5
(March 15 - March 21)
Division Final
Best of 7
(March 23 - April 1)
Russell Cup Final
Best of 7
(April 3 - April 12)
N1 Temiscaming Titans
N8
N1
N4
N2 Bradford Rattlers
N7 West Nipissing Lynx
N1
N2
N3 Bradford Bulls
N6 Bancroft Rockhounds
N2
N3
N4 Knights of Meaford
N5 Ville-Marie Pirates
N1
S1
S1 Durham Roadrunners
S8 Windsor Aces
S1
S4
S2 North York Renegades
S7 Streetsville Flyers
S1
S2
S3 Niagara Predators
S6 Plattsville Lakers
S2
S3
S4 St. George Ravens
S5 Northumberland Stars
Qualifiers
Single game elimination for eighth seeds of North and South Divisions.
North

Qualifier Rd1
(Mar. 7, 2022)
N9 South Muskoka Shield
N10 Almaguin Spartans

Qualifier Rd2
(Mar 8, 2022)
N8 New Tecumseth Civics
N9 South Muskoka Shield

South

Qualifier Rd
(Mar. 7, 2022)
S8 Windsor Aces
S9 Tottenham Thunder
West Division:
The West Division will play for their on Divisional Championship. Due to the cancelation of the National Championship, this will be where the West Division season will end and their champion crowned.
All teams will recieve the opportunity to compete in playoffs. Due to a 7 team uneven bracket, the first place regular season team will receive a 'Bye' to advance to the second round.
Teams are reseeded in reference to their regular season standings to determine home ice advantage and matchups - thus the bracket is subject to change.
Division Quarter Final - Best of 3
Division Semi-Final - Best of 7
Division Final - Best of 7
Division Quarter-Final
Best of 3
(March 7 - March 13)
Division Semi-Final
Best of 7
(March 15 - March 24)
Divisional Final
Best of 7
(March 25 - April 3)
W1
High Prarie Red Wings
Bye
W1 High Prarie Red Wings
W4
W2
Northern Alberta tomahawks
W7
Gibbons Pioneers
W1
W2
W3
Edson Eagles
W6
Mackenzie Mountaineers
W2
W3
W4
Fox Creek Ice Kings
W5
Slave Lake Ice Dogs