GMHL Alumni Updates: SPHL
Each month for the rest of the season the GMHL will be highlighting a list of alumni
February 18th, 2022 at 2:09PM
February 19th, 2022 1:29AM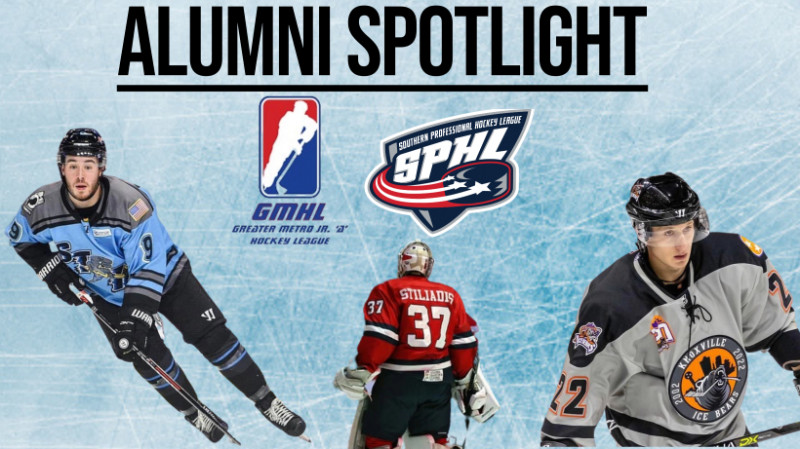 ---
Each month for the rest of the season the GMHL will be highlighting a list of alumni from the league who have advanced to higher levels of hockey following playing in the GMHL. Advancement is a key factor in the development level of the GMHL and is put at the forefront of the leagues principles. This month we will be listing those alumni from the GMHL who have played this season in the Southern Professional Hockey League (SPHL), a league with two former GMHL MVP winners, 2 former champions, and multiple GMHL All-Star and Captains, playing in it.
GMHL Alumni in SPHL:
Birmingham Bulls:
Stephen Alvo (St. George Ravens)
Josh Labelle (Bradford Bulls)
Evansville Thunderbolts:
Coy Prevost (Windsor Aces)
Knoxville Ice Bears:
Stepan Timofeyev (Bradford Rattlers)
Sammy Bernard (Bobcaygeon Bucks)
Macon Mayhem:
Michael Stiliadis (Toronto Blue Ice Jets)
Brendan Hussey (Bradford Bulls)
Don Carter Jr. (Bradford Bulls)
Christopher Hunt (Bradford Bulls)
Taylor Cutting (Toronto Blue Ice Jets)
Ryan Alves (Lefroy Wave)
Pensacola Ice Flyers:
Ivan Bondarenko (Tillsonburg Hurricanes)
Petr Panacek (Kingsville Kings)
Dawson Baker (Northumberland Stars)
Davide Asselin (West Nipissing Lynx)
Troy Murray (Temiscaming Titans)
Christian Pavlas (Kingsville Kings)
Peoria Rivermen:
Francesco Corona (Rama Aces)
Alex Basey (North York Renegades)
Quad City Storm:
Shane Bennett (Halton Ravens)
Matt Stoia (Windsor Aces)
Kyle Heitzner (Bradford Bulls)
Jay Croop (Bradford Bulls)
Richie Pinkowski (Kingsville Kings)
Jason Stone (Meaford Knights)
Roanoke Rail Yard Dogs:
Bryce Martin (Niagara Whalers)
Dillon Hill (Niagara Whalers)
Vermillion County Bobcats:
Ryan Devine (Toronto Blue Ice Jets)
Dante Juris (Bradford Rattlers)
Kyle Stevens (Knights of Meaford)
The SPHL is the fourth highest level of professional hockey in North America, behind the ECHL, the AHL, and the NHL. The SPHL is known for advancing its player through the ranks to each of these leagues, most notable among their alumni is former NHL Stanley Cup Champion Goalie, Scott Darling. The GMHL is proud to see its alumni playing at this level of hockey, and we wish all mentioned continued success at the professional level!