The Temiscaming Titans Win the 2022 Russell Cup
Titans 2021-2022 Season in review
April 13th, 2022 at 1:10AM
April 13th, 2022 6:14AM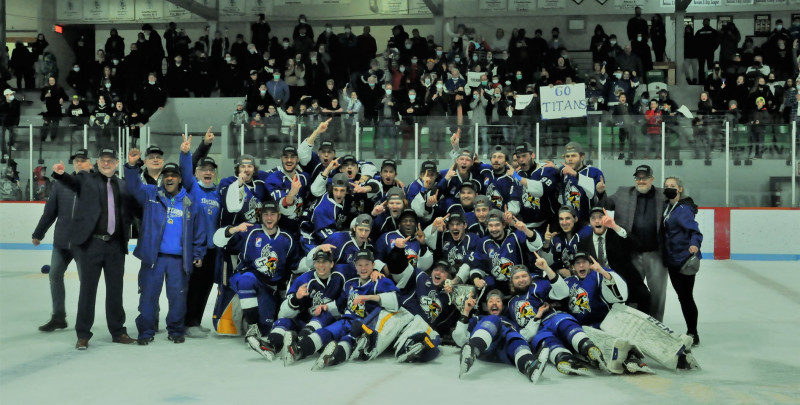 ---
After a season cut short by the pandemic during a promising run towards the 2020 Russell Cup, the Temiscaming Titans went into the off-season and following shortened season hungry for more. They had a lot of veteran players willing to buy in to bring a championship back to Quebec and they delivered that winning the 2022 Russell Cup on home Ice in Temiscaming on Saturday night!
The Titans came hot out of the gate, after they started 1-1 they went on a 28 game winning streak, becoming the undisputed #1 in the league to start the season. Their win streak was snapped by the Bradford Rattlers but they would pick it back up after that game and would not lose again for the rest of the regular season and playoffs.
They facilitated a pair of extremely important moves bringing in top forward Felix Laniel (who was leading the MJAHLs Valley Wildcats in scoring at the time) and top defenseman Mikhail Kornilov (who was previously serving as the New Tecumseth Civics Captain and leading scorer) to solidify their roster as they made way towards their title.
The Titans took on the Civics in the 1st round, winning 2 games to none, before sweeping their provincial rival the Ville-Marie Pirates in round 2 and finishing off the North division with a 4 game sweep of the Bradford Bulls.
After winning a grueling 7 game series in the South Division Final it was revealed that the Titans Championship opponents would be the South 1st place Durham Roadrunners. Despite a strong fight in the finals the Titans would ultimately sweep the series capturing the 2nd Championship (2014-2015) in franchise history and cementing their season as one of the most dominant the GMHL has seen, alongside the 2015-2016 Tottenham Steam (41-1, Russell Cup Championship) and the 2012-2013 Bradford Rattlers (42-0, Russell Cup Championship).
The GMHL would like to extend it's congratulations to the Temiscaming Titans on winning the 2022 Russell Cup Championship, and winning their second Russell Cup in franchise history. It was a tremendous season, and we look forward to the 2022-2023 GMHL season, a season that will end with the same Titans hosting the first GMHL Canadian National Championship Tournament.