GMHL Alumnus Spotlight: David Christopher
The GMHL has had the opportunity to advance hundreds of players to the professional and college
February 27th, 2022 at 3:37PM
February 27th, 2022 9:40PM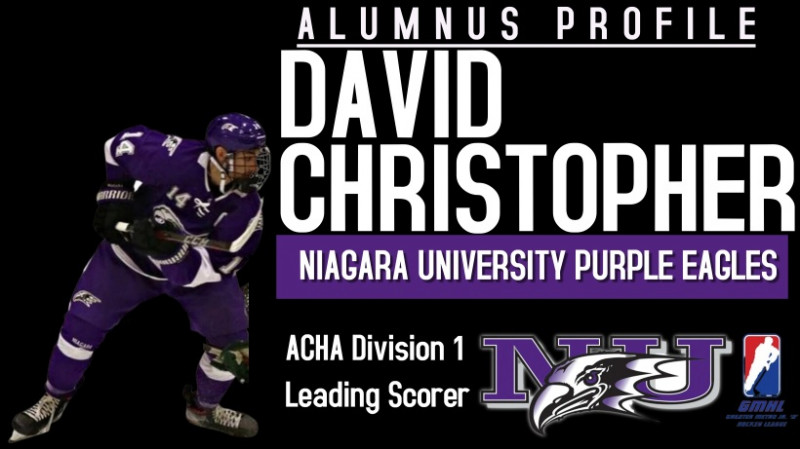 ---
The GMHL has had the opportunity to advance hundreds of players to the professional and college levels of hockey following their time in the Greater Metro Junior 'A' Hockey League. One of the leagues that GMHL alumni are frequently recruited to is the ACHA level which provides the third highest level of college hockey in the United States. This season 1766 players have suited up in the 70 team 1st division of ACHA (including over 50 from the GMHL) and leading every single one of them in scoring is former 4 year GMHL veteran David Christopher.
Playing as the Captain of the Niagara University Purple Eagles, his 72 points in 31 Games this season lead the entire ACHA Division 1 Level, He also leads with a 2.32 Points Per Game Average, is 2nd in assists with 42, and is 4th in the league in goals with an even 30.
Christopher, originally from Buffalo, New York, played his entire 4 year junior hockey career in the GMHL, all with the Niagara Whalers. Christopher joined the Whalers in 14-15 and would play until 17-18. He was an all-star in 16-17 the year he helped the Whalers win their first GMHL Championship, and then in 17-18 he was named the Top Forward of the South Division finishing 5th in the league scoring race with 107 Points in 40 games.
When it was all said and done Christopher wound up being the Franchises All-Time Leader In Games Played (156, 36th All-Time in the League), Goals (101, 22nd All-Time in the League), Assists (165, 12th All-Time in the League), and Points (266, 11th All-Time in the League, As well as being the 2nd most behind Donny Danroth for a player who only played junior hockey in the GMHL).
Christopher will go down as one of the most dedicated and talented players the GMHL has ever seen and the GMHL would like to wish him and the Niagara Purple Eagles both congratulations and continues success as the program looks to compete for a National Championship behind their captain.