Prospect Profile: Civics' Vadim Tsyrkunov
Tsyrkunov, the 2002 born Krasnodar, Russia native is currently pacing all U18 players in the league
December 31st, 2019 at 9:45AM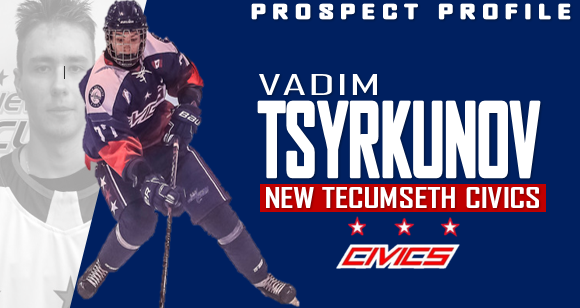 ---
The GMHL will be profiling one prospect per month for the duration of the season to highlight a 2001/2002 born player who are using this season to develop into a high quality prospect for their future hockey careers. This month we will be focusing on Civics' forward Vadim Tsyrkunov
Tsyrkunov, the 2002 born Krasnodar, Russia native is currently pacing all U18 players in the league in scoring with 28 Points (18G, 10A) in 25 games this season. He currently sits sixth in scoring on a loaded Civics offense team that has the fourth highest goal total in the league this season. Tsyrkunov has also converted 4 times on the power play, once while shorthanded and 3 of his goals have stood as the game winner in his first season of junior hockey.
This summer Tsyrkunov was skating with the Cleveland Barons U18 team in the US before joining the Civics at the beginning of the season. He played his minor hockey in the Kapitan Stupino system playing U16, U17 and U18 with the program scoring 30 points in 36 games across 3 seasons. Vadim has drawn interest from major junior clubs already, having been skating with teams in the CHL over the past month.
Tsyrkunov is one of 56 Russian born players in the league this season and is tenth in scoring amongst all of them this season. The GMHL has long been a hot bed for Russian prospects to develop before going on to play at the Major Junior, College, and Professional levels of hockey.