GMHL Team Profile: Northern Alberta Tomahawks
November 21st, 2022 at 4:19AM
November 21st, 2022 4:26PM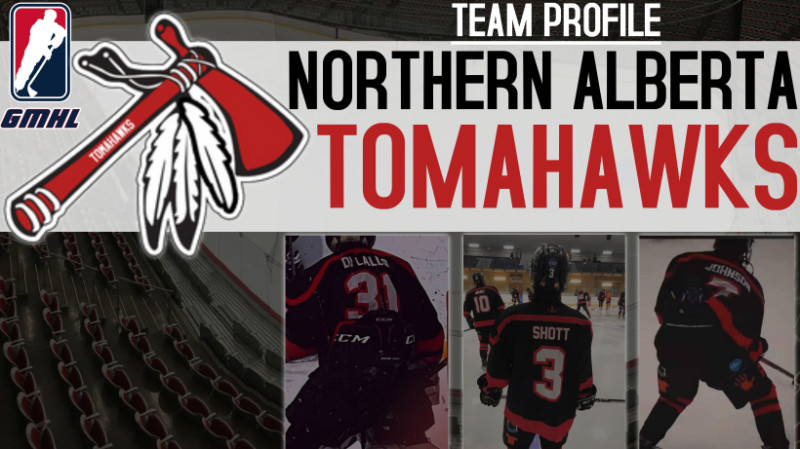 ---
The GMHL will be profiling one team per month for the duration of the season to highlight a team that has combined on ice success with strong fan support, community involvement, a winning culture, and player development. The second team featured this season and the first from the West is the Northern Alberta Tomahawks
The Tomahawks joined the GMHL in 2019-2020 as the Enoch Tomahawks before rebranding as the Northern Alberta Tomahawks. They have consistently been a top program in the west and have seen some of the best players in the GMHL west come through their program.
2022-2023 Record (As Of November 21st, 2022): 13-4-1 (2nd in the West Division)
All Time Record: 65-37-9 (.586 Winning Percentage)
Leading scorer this season: F Tyrell Shott, 53 Points (5th in League)
All Time Leading Scorer: F Bryant Joseph, 107 Points (231st All-time in League History, T-7th amongst Active players)
GMHL West Finals Appearances: 0
GMHL West Championships: 0
League Award Winners: 4 (1x Top Defenseman, 1x Most Sportsmanlike, 1x MVP, 1x Top Defensive Forward)
General Manager: Taylor McCallum
Head Coach: Taylor McCallum (2nd Season)
Staff: Assistant Coach Jamahl Eakett, Assistant Coach Curt Wiebe, Trainer Hunter Marsden
Captain: Bryant Joseph
Alternate Captains: Kyler Stenhauer-Morin, Chance Ward, Kalen Strawberry
Top Performers: The Tomahawks have established themselves as one of the powerhouses of the Western Division! With a 13-4-1 record they are in 2nd place in the West with 4 of their 5 losses coming to the undefeated 1st place Red Wings. The team has been led offensively by a quartet of forwards with more than 40 points. At the top of that list is Tyrell Shott, followed by Michael Beaverbones, Kyler Steinhauer-Morin and Captain Bryant Joseph almost all of which have been ranked among the top 20 GMHL players in the western division player power rankings. Speaking of the power rankings the Tomahawks boast the highest ranked defenseman to lead their back end as they have Deondre McCarthy patrolling the blue line and setting up teammates with crisp breakout passes on a nightly basis. In Net the Tomahawks find Skyler Di Lallo the second ranked goaltender in the west who has posted a 5-2-0 record this season as Northern Albertas top netminder.
Fan Support and Community Involvement: The Tomahawks have a great community of fans that support them both in season and during the off season. The Tomahawks hold events like their open practices to the fans. They have many local players, take time dedicated to spending time at schools and participate in many charity events.
Arena and Facilities: From the Website "Community is the heart of Enoch Cree Nation and it is important for us to have a place that brings the people of our community together. What better way than to connect at the Enoch Community Centre. Here, we have a place that provides the opportunity for individual growth of all ages and community connection through recreational activities."
Notable Active Alumni:
Jamahl Eakett: Current Tomahawks Assistant coach and former player Jamahl Eakett is also one of it's active alumni. Following his playing career in junior which ended with a more than 2 Points per game average in Northern Alberta Eakett switched his focus to coaching and playing sr hockey in the North Central Senior Hockey League where he has 3 points in 3 games for the Bonnyville Senior Pontiacs. Eaketts players with the Tomahawks have even gone to his games to support their coach.
Keygon Okemow: Former Tomahawks Goaltender Okemow started his GMHL career with the Tomahawks in 2019-2020 where he posted a 7-6-0 record helping Northern Alberta to the playoffs before they were interrupted. Okemow then went on to win the GMHL West championship and GMHL Goaltender of the year with the High Prairie Red Wings in 2021-2022 before committing to play college hockey in the BCIHL where he is currently rostered for the Okanagan Lakers.