Rattlers Stop Knights Win Streak at 5
The Bradford Rattlers are now the only team in the North Division with a win streak
November 4th, 2022 at 11:35AM
November 4th, 2022 4:37PM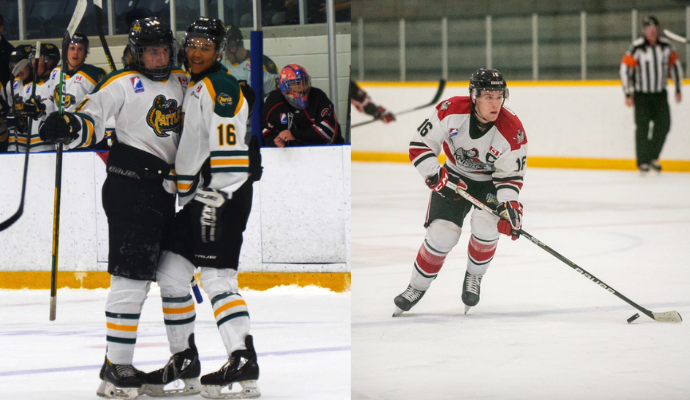 ---
Thursday November 3rd saw a battle at the top of the North Division. The Bradford Rattlers Traveled to Meaford to face the Knights at the Meaford & St. Vincent Community Centre. Before the game, the Rattlers were 5-1-0-1 while the Knights were 5-0-0-0.
The first period saw the Knights come on top with a 2-1 lead. Goals by Adam Polach, assisted by Tomas Coupek and Alessandro Supino, and Alessandro Supinto assisted by Declan Flanagan and Tomas Coupek. Jacob Rhodin was the lone scorer for the Rattlers.
The second period saw a roaring Bradford team who scored 3 unanswered goals. Hunter Godmere (4:06) assisted by William-Daniel Burns and Swen Meusy, Arvid Malm (5:52) assisted by Jesper Eriksson and Jacob Rhodin, and Jacob Rhodin (9:04) unassisted. The Knights answered back with a goal by Paavo Yritys (9:14) assisted by Noah Calvert-Goetz and Yanco Lens. The last 5 minutes of the frame saw a goal by Pavel Rozhkov (15:49) assisted by William-Daniel Burns and Arvid Malm.
The third period saw the same result as the second, as the Rattlers scored four more goals and the Knights one. Goals scored by Jesper Eriksson, William-Daniel Burns, Stepan Levitskiy, and Hunter Godmere. The Knights lone goal was scored by Tomas Coupek at the end of the third period to make the final score of 9-4.
Shots were 12-8 for Bradford in the first period, 18-14 for Bradford in the second, and 9-15 for Meaford in the third, for a total of 39-37 in favour of the Rattlers.
Three stars of the game:
#1 William-Daniel Burns (1G, 3A)
#2 Jacob Rhodin (2G, 1A)
#3 Hunter Godmere (2G, 1A)
Goaltender Oliver Balazs stoped 33 of the 37 shots directed at him for the Rattlers.
Goaltenders Cale Puzey stoped 12 of 17 and Robin Larsson stoped 14 of 22 shots directed at them.
Bradford Rattlers now have a 6-1-0-1 record and the Meaford Knights have a 5-1-0-0 record.